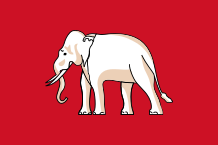 Comments about The White Elephant House
The White Elephant House
"Simply the most attractive private home in Thailand
whose owners welcome paying guests in the European tradition."
February 21, 2018
"What a wonderful setting for a great private bash. Uncluttered by the surroundings of more prestigious destinations The White Elephant swamps you with the peaceful calm of a place where there is nothing to do. Thus the visitor can concentrate on the figure that makes a trip to The White Elephant worthwhile---the tales of a full and fanciful life as told by the mysterious host, EGL Carter, who is a modern day raconteur of events that normal mortals seldom witness let alone experience."
The Princess of Duh
Inger Kyrkjerud
3 Jan
Dear Edward, actually when food is concerned (at The White Elephant House), my absolute favorites were the potato cakes and the salads with your beautiful mustard dressing :)
W. S. Denton <townsendhq@xxx.com>
To: Edward Carter
29 Mar at 18:48
Sent this to Tripadvisor:
"As house guests in a beautiful, private villa, we had the best time we've had in years!

"Staying as a house guest at The White Elephant House is a unique experience. We had never been to this part of Thailand before - Isaan. It is completely unspoiled and full of beautiful landscapes. There were brilliant-green rice paddies, thick rubber tree plantations, and many very rustic villages. I read that this used to be part of Laos and Cambodia and that is reflected in the native dialect. The people are open and very, very friendly. Our hosts, Ted and Tan, are charming, sweet, and attentive. Ted is a well-known hotelier having started and run The Point in New York's Adirondack Mountains and is a great raconteur. Dinners become dinner parties and were such fun! Opaul, Tan's son, is adorable and we spent wonderful hours together working on an antique, wooden, jigsaw puzzle (that came from Macy's and whose original box had the record of Carter family completions dating back to Jan 25, 1923!). The house is gorgeous and very comfortable, Tan's Thai dishes and Ted's (recipes from The Point) were delicious, the weather was grand, and we met some of the neighbors - grins all around. As I have business connections in Bangkok, we promised to come back very often. It's wonderful, Go.
"Would I recommend this vacation rental to my best friend? Yes."
It was great being your first guest!
Best wishes,
Bill and Francine
diane connors <dianeelinorconnors@xxx.com>
To: Edward Carter
28 Mar at 20:36
Just checked out your AIR BNB listing- looks divine. What a wonderful guest experience you and your partner must share!
A trip to Vietnam and Cambodia is on my bucket list- I will need to include The White Elephant House, as well!
Take care, Ted!! Miss you, too!
Best, di
Betsy Jacobs <betsyjxxx@yahoo.com>
To: Edward Carter
11 Mar at 20:26
Ted,
Your home is magnificent. Wish you were just a few hours away.
I might never leave....

All the best,
Betsy
11 Mar at 14:18 Barbara Mountrey <bmountrey@xxx.com>


To: Edward Carter

The White Elephant House has now moved to the top of my bucket list. Someday ...
Hugs,

Barbara
On Feb 21, 2018, at 5:41 PM, Frank Clovyn <fclovyn@xxx.com> wrote:
Dear Dr. Carter, Ted,
Hope you are well? It certainly looks like it.
Had to write to you, due to your yet again, 'trend-setting' spirit and yes, as usual, eloquently written!
The house looks amazing and I love the concept.
May I wish you tons of successes and many, many guests to enjoy what will surely be 'gracious Thai hospitality' at its best!
Warmest regards, from the…I can't recall the name you gave me once and wrote an amazing article about...
Frank Clovyn
(Ex-GM, The Landmark (Hotel), Bangkok)
A letter EGLC wrote to Airbnb...
Feb 9, 2018
I have a complicated question. In 1980, I opened my home in the mountains of New York to paying guests during the Lake Placid Winter Olympics. The idea caught on, and my place, called The Point, became the number one "resort" in the United States. Google it.
It was not a B&B, people came and became part of the house-party. I gave them free use of all the estate's facilities and three meals a day and all beverages including liquor. In 1980, I charged $250 per room per night (two persons). Today, the rate is nearly $2000 per night. As there are no restaurants within a 30-minute radius of my Airbnb listing, I cannot expect my guests to feed themselves. Therefore, I want to run The White Elephant House exactly the same way I ran The Point. In other words, it is all-inclusive. All meals including beverages will be included, and people will be expected to participate in each evening's dinner party with me hosting.
Now the problem - how will Airbnb determine a fair pricing policy? All other listings in Airbnb are just bed and breakfast places. I am world famous as the creator of The Point and I serve gourmet meals and great wines - all included in the price. All sophisticated travelers are familiar with The Point and will expect the same perfection. I want to start at $250 per couple per night which is ten times the suggested price in my Airbnb dashboard. Please discuss this with your executive committee.
PS: My partner and I are opening a standard B&B across the street which we will register with Airbnb, but staying as a houseguest at The White Elephant House will be a uniquely different experience.
Thanks very much.
Best regards,

Edward
Edward Carter, founder of The Point, International delegate for Relais et Châteaux for most of the Western Hemisphere, and retired Professor of Hospitality and Tourism at Bangkok University International College.
Airbnb's response…


Edward, I am here to help you with all your concerns.
Edward, You have come up with a new idea for us as well, Airbnb should definitely look into it and should start All inclusive as well if the host wants.
As it will definitely attract more business and make more happy guests, as the guests do not have to arrange for their food and will live the local life which the host can provide.
I want to thank you, Edward, it is really overwhelming for me that I am assisting the creator of ¨The Point¨ which I can see was really one of the best resort of that time in the United States.
I understand that Airbnb, for now, is B&B and the suggested price is less than the price it should be, however, it is your choice to keep the price you want to.
I would request you as you are providing an all-inclusive option and you want people to participate in each evening's dinner party with your hosting, please mention all the things in the description so the guest who books this will get to know what you are offering.
I believe your idea of running The White Elephant House exactly the same way you ran The Point will work wonders and will give another option for Airbnb to look for.
I would request you, Edward to set the price as you want because of the extra benefits you are providing to the guests.
Edward, Welcome to the Airbnb family :)
Thanks, Happy Hosting!